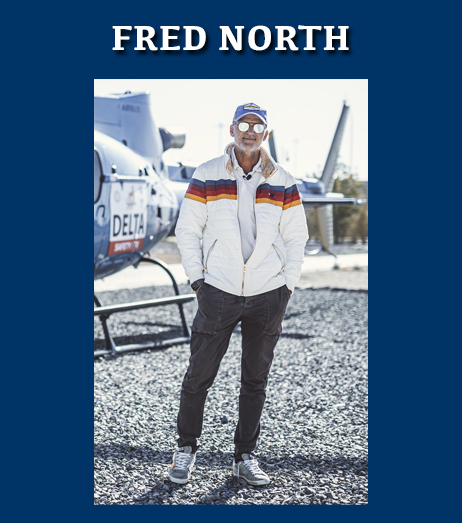 Acclaimed stunt film pilot, Fred North was born in Tunisia in 1961 to French expat parents and began his journey to becoming a pilot at eight years old, the very second he saw and set foot in a helicopter. From the jungles of Costa Rica and Madagascar to the Eurasian Steppe and the Swiss Alps, Fred has flown in some of the world's most perilous and demanding conditions, serving as Camera Helicopter Pilot and Chief Pilot for world renowned rally car races such as "Paris-Dakar" and "Paris-Moscow-Beijing" and as coordinator for the famous sport trek, "Raid Gauloises." At 41, determined to use his skills as a pilot and his natural eye for the camera to tell stories, Fred moved to Los Angeles, making the transition to from "pilot who films" to Film Pilot.

Specializing in the film industry for more than 30 years, Fred is an expert in aerial cinematography, having accumulated more than 15,000 hours shooting feature films and commercials, and more than 20,000 total flying hours. He has over 200 film credits including Inception, James Bond: Spectre, Mission Impossible, Guardians of the Galaxy, and several movies in the Fast and Furious franchise, and has worked with such acclaimed directors as Roland Emmerich, Michael Bay, Tony Scott, Peter Berg, Damian Chazelle, Doug Liman, Joel Schumacher and more.

At age 40, Fred achieved the World Record for "Altitude with a Helicopter", climbing to 42,500 feet in South Africa.
Credits Include:
Fast and Furious
Ambulance
Extraction 2
The Fall Guy
Beverly Hills Cop: Alex Foiley
The Old Guard 2
James Bond "Spectre"
Mission Impossible
Cell +1 (310) 486-2742
For More Information Visit:

Home | The MPPA | Members | Safety | Announcements | Links | Contact | On Location | Member Access